(Written by Linidwe)
My name is Kgomotso and my mom's name is Tumi. We came here to Malamulele Onward to help my mom to learn how to play with me.
As a child, I need and want to play just like other children, but my mom didn't know how to play with me because I have CP. She was probably worried that I couldn't understand or didn't like to play, because I have difficulties in speaking and moving by myself. She can sometimes worry so much about my body which can make playing games seem less important. Sometimes when I want to play with other people, they misunderstand me or just assume that I don't like playing – but that's not true, I love it!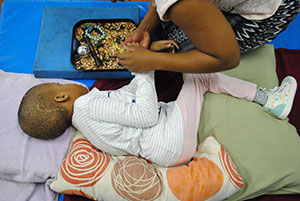 I want to thank Malamulele Onward for teaching my mom how to play with me. It is so important to play with me in ways that are interesting and fun for me, but also to help my body to learn to do new things and for me to be positioned well. They say 'CP is a way of life' at Malamulele Onward, and for me this means helping my friends, my parents and my siblings learn how to help me to play with them (not to just them do things for me or at me).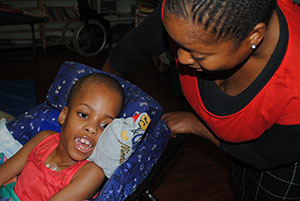 I really love to play. A lot. And now we play all the time. Anyone is welcome to come and play with me, but remember to ask my mom how you can help me to play in the best ways, so that you can understand how I play best, and also so playing can continue to help me learn and grow.